5. Blackrock Depths : Bosses location
Blackrock Depths is very non-linear: there's many ways to go through, and because of the sheer size, you'll probably want to pick and choose the encounters rather than running the whole thing in one sitting.
Some of the more interesting things to do: the Ring of Law, a random boss in an arena, the Dark Coffer, which spawns the holder of a key to a chest in a random location, and the Grim Guzzler, a mid-instance bar that features a couple vendors and several boss encounters.
Discover without further delay the complete list of encounters considered important in this instance :

Enemy Level Range: 49-59 elites.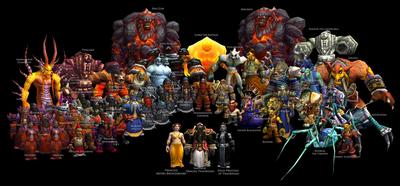 Blackrock Depths Boss map: the average time to complete the entire instance is 4–6 hours due to its complexity: a large amount of mobs and bosses, several scripts, and many quests.