5. Zul'Farrak : Bosses location
Zul'Farrak is a big circle, so the end boss can be done before most of the mini-bosses.
Chief Ukorz Sandscalp can only be reached after defeating Nekrum at the end of the Pyramid Battle.
Gahz'rilla can be done before or after the Pyramid Battle/Sergeant Bly/Chief Ukorz Sandscalp, so in some sense, he can also be the "End Boss".
Discover without further delay the complete list of encounters considered important in this instance !
Enemy Level Range: 44-48 elites
Bosses List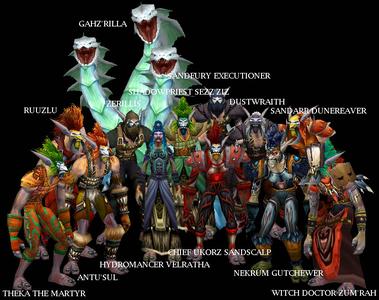 Due to the number of packs grouping between 2-3 trolls, it is necessary to privilege the classes having control in order to limit the damage and to be able to quickly link the packs without losing too much life/mana. In 1 hour you should have finished the instance.