3. The Forging of Quel'Serrar
After exchanging some dialogue with Lorekeeper Lydros, you can begin the second part of The Forging of Quel'Serrar which will lead you to Onyxia's Lair.

When the Unfired Ancient Blade is used, it will be removed from your inventory and create a sword object implanted in the ground.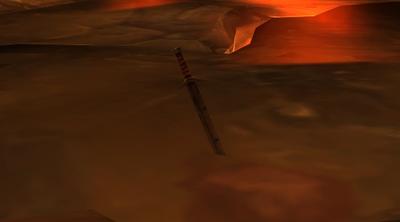 Be careful! This item can be used anywhere in the world, and only once. This means that if you accidentally use it outside of Onyxia's Lair, or use the item during the Onyxia encounter and wipe without heating and looting the Heated Ancient Blade, you will need to return to Lorekeeper Lydros in Dire Maul to retrieve another Unfired Ancient Blade by abandoning and re-accepting the quest. Be very cautious when using this item.
Journey to Onyxia's Lair. During the Onyxia encounter, the goal is to place the Unfired Ancient Blade "under the flaming breath of Onyxia" - this is not referring to her Deep Breath mechanic, but instead her standard flame breath attack in the third phase of the encounter.
When Onyxia is below 40% health, the third phase of the encounter will begin. During this phase you will need to place the Unfired Ancient Blade in front of Onyxia so it can be heated by her flame breath attack.
Once Onyxia has heated the blade with her flame breath, another sword object will spawn during the encounter that you will be able to loot (similar in appearance to the sword object dropped by Unfired Ancient Blade). Upon looting this sword object you will receive Heated Ancient Blade. This item has a duration of 20 minutes, so you have a few chances to kill Onyxia and temper the blade.
After Onyxia has been slain, use Heated Ancient Blade while targeting her corpse. Once the cast has completed, Treated Ancient Blade will appear in your inventory and the quest can be turned in at your leisure. Keep in mind that players can skin Onyxia (which will cause her corpse to despawn), so be sure to temper the blade as soon as she dies.
Journey to Dire Maul once again and turn the quest in to Lorekeeper Lydros, who will reward you with Quel'Serrar.