1. How to levelup quickly your Skinning 1-300?
Skinning is a gathering profession and you will not be able to create objects as such. It consists in recovering the skin of dead animals and that in order to gather furs, leathers and scales. Skinnng is very useful for leather workers. The latter, to create objects in leather or mesh, indeed need skins and scales to turn them into enchanted objects. But butchering is sometimes used for other professions such as sewing.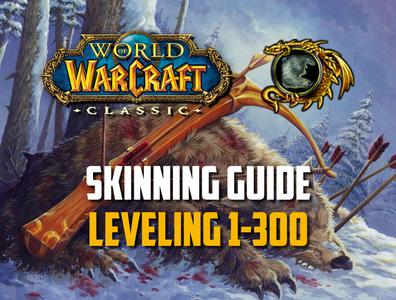 Skinning is a convenient and self-evident occupation for those who have already made animal hunting their main occupation, but it is also a very useful business at the financial level by reselling the skins at the auction house to fill your wallet!
Skinning can easily remove a dead beast by making sure to have a cutter's knife in their inventory, and by right-clicking on the remains of an animal. Although not all animals can be cut up, the vast majority can be. In addition, you do not need to have killed a beast yourself to be able to skin it.
Any skinnable corpse will have a color code on the "Skinnable" property when you move your pointer over it:
Red: Not skinnable.
Orange: Difficult to skin; certain chance of increasing Skinning skill level.
Yellow: Moderately difficult to skin; moderate chance of increasing Skinning skill level.
Green: Easy to skin; low chance of increasing Skinning skill level.
Gray: Very easy to skin; no chance of increasing Skinning skill level.