7. About your statistics
It is often recommended to use this or that stat instead of others, but do you understand why?
Without going into complex math which wouldn't necessarily help you, let's try to set some fundamentals.
Melee attacks use pseudo dice rolls to determine whether your attacks will hit or not. Autoattacks and special attacks use different formulas.
Only one dice roll determines whether your autoattacks hit or not (see the table below), while special attacks use 2. The first is on the same table and ascertains whether your attack will be blocked or hit, the second whether the attack will critically strike or not. If your attack is blocked, whether it critically strikes or not is irrelevant, because it will do no damage either way. Only "glancing blow" are not taken into account for special attacks.
7.1. Here are all the outcomes that matter when you're doing damage to your target
Miss

Dodge

Parry

Glancing Blow

Block

Critical Strike

Hit
Mobs can only parry or block attacks coming from the front. If you're attacking from their backs, this never happens. Note that while players can't dodge attacks from the back, NPCs can.
Special Attacks' hit cap is 9% for every class. However, you need to take into account Weapon Skill and Critical Strike Chance.
In this regard, rogues are favored: they get hit chance, critical strike chance and weapon skill in their talent trees. You can easily get 5% hit & crit chance as well as 5 weapon skill. We'll get back to this later.
7.2. Hit Cap for Rogues
Values for Hit Cap and other stats are rarely transparent. To understand them, you need to understand some formulas involving your level 60 stats (and your base weapon skill of 300 assuming you didn't forget to level it up!) and your target's level, which is 63 for Bosses, who have a defence stat of 315.
Rogues must therefore take into account the 5% hit chance and the 5 weapon skill from their talents: their weapon skill becomes 305, and lose 2% of their chance to miss (indirectly worth 3% hit chance) as well as a slightly higher chance to critically strike, and a lower chance of their attacks getting dodged / parried / blocked
Once at the 9% hit cap, the stat becomes secondary and critical strike chance becomes more interesting.
NB : Mobs whose defence is at least 10 higher than your weapon skill ignore 1% of your hit chance, which is why your hit cap is 9% and not 8%.
7.3. Rogue's stats



1 Attack Power

1 Agility

= 1 Attack Power, + 0,03448% critical strike chance, + 2 armor and + 0,051%

dodge (29 agi = 1% critical strike chance)

1 Strength

= 1 Attack Power

1 Stamina

= 10 Health
Spirit increases your Health regeneration out of combat. Intelligence increases how fast you increase your weapon skills up to your cap (determined by your level).
7.4. Glancing Blows / Weapon Skill
Glancing Blows only happen on your autoattacks: they're weaker hits that can't critically strike. Glancing Blows are two separate events:
First, a 10% chance on a monster of the same level as you, adding 10% for each level above your own. This means that against a level 63 boss, 40% of your autoattacks will be glancing blows.

This is unavoidable.

An autoattack that becomes a glancing blow does 35% less damage against a level 63 boss.
This is when Weapon Skill becomes important; every point above 300 will reduce this 35% penalty. To figure out the exact effect, see this table whose values were confirmed during the Classic WoW beta, taking into account a level 63 boss has a defence of 315 and your weapon skill is 300+x. The value on the left is the difference between a mob's defence and your weapon skill. The value on the right is the damage reduction of glancing blows.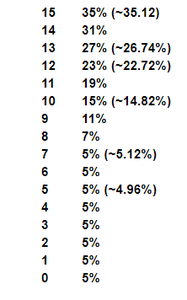 Because of this, 308 weapon skill (regardless of the bonus hit chance it gives) is the optimal score against raid bosses.