7. Blacksmithing Leveling Guide 200-260
If you have mining, you will get the stones below by mining Mithril Ore.
It's recommended to have Mining skill 150 before you start farming.
The greatest place to mine Mithril is the Burning Steppes. You'll maybe meet some lvl 60 doing the same profession and trying to level up their mining skills and you might have to fight or flee. Stay close to mountains and it's better to avoid the caves because there is plenty of Mithril at the corners of the map. Avoid the center (red arc) if you want to loot quickly without having PVP troubles.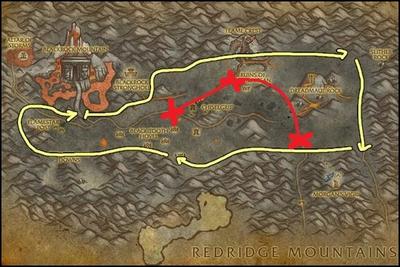 Alternatively, if the Burning Steppes are too scary because your level is not high enough or if there are a lot of PvP fights, you can go to the Badlands.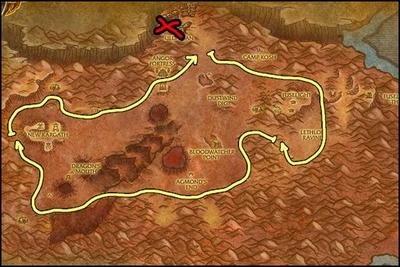 Follow these steps for 200-260:
Once 225: The Horde and Alliance players will have to go to Brikk Keencraft in Loot Bay to pass as "Artisan".
[Plans: Mithril Scale Bracers] is sold by Gharash at Swamp of Sorrows (Horde) and by Harggan at The Hinterlands (Alliance). There is approximately a 30-60 minutes respawn time, this means you have to wait if someone bought it before you.
Make [Mithril Scale Pants] if you do not want to wait for the recipe to respawn or check the Auction House and look for [Plans: Heavy Mithril Pants]