1. Druid class overview
Druids are hyper efficient Tier 1 levelers with low gear dependance and the highest movement speed in the game. Druids have excellent starting area progression in a Fresh Realm Environment due to the reduced congestion of both Mulgore and Teldrassil.
At level 10, Druids get a big power spike through Bear Form allowing them to kill faster with indefinite sustain. Druids get Cat Form at level 20 and soon after 2/2 Improved Cat Form, giving them an astounding 30% static movement speed increase when outdoors. This speed is incredibly valuable early on, and when paired with the ability to Self Heal and Prowl (Stealth), offer Druids advantages that no other class have.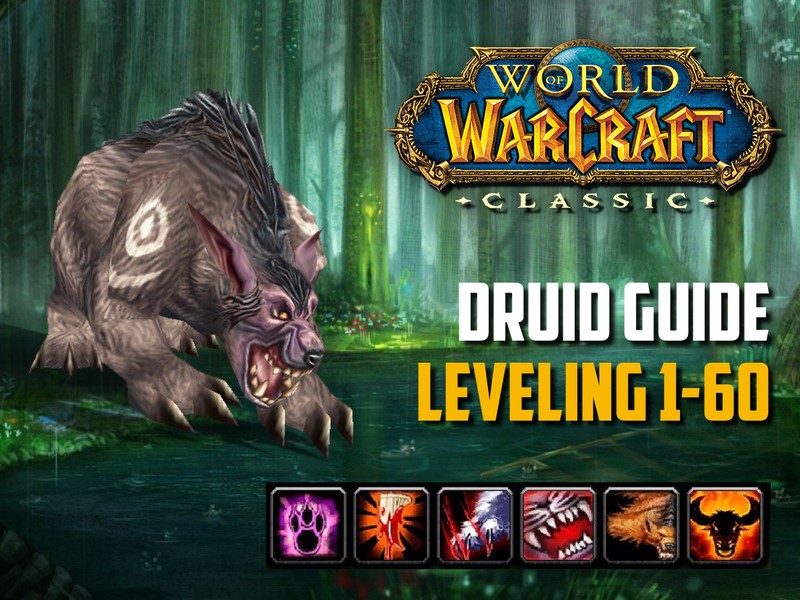 Druids are capable of competently performing as a Tank, DPS, or Healer throughout the entirety of the leveling process. Bear Tanks have easy, on demand, high threat AoE in the form of Swipe and threat generation that is multiplicative as opposed to additive.
Cat DPS is quite strong during the leveling stages and offers great group utility in the form of a combat Battle Rez, off Heals, off Tanking and more. As Healers, Druids are best utilized alongside another member of the party that can freely resurrect as they are restricted to Rebirth, primarily a battle rez on a long cooldown. Druids really shine when it comes to questing more so than grinding as it makes the best use of their increased movement speed, finesse with Stealth, and Single Target damage.
Druids are one of the most underrated and underrepresented classes in Classic but don't be fooled by the supposed "Hybrid Tax". In the right hands Druids are highly capable in every aspect the game has to offer and I highly recommend giving them a shot.
Druid strenghts
Tier 1 Leveling Speed
Highest Movement Speed in the Game
Amazing Questers
Low Gear Dependance
High Sustain
Strong Self Healing
Decent Crowd Control
Can Tank, DPS, or Heal
Can Stealth
Forms offer Dynamic Gameplay
Hard to kill in Open World PvP
Druid weaknesses
Slow Start from Lvls 1-10
Mediocre ST Kill Speed 40+
Subpar Grinding Efficiency
No "Regular" Resurrection.