7. Best gear for leveling as a mage
NB: In this guide, we only cover priority stats for the LEVELING (so it's totally different that the gear for max level PVE / PVP, that you can find in our mage pvp guide and pve guide).
For leveling, do not focus on gear with +spell power, it's not efficient.
You need a LOT of the SpellPower stat to actually make a difference, I'm talking about having a full set of SP gear.
To get this gear you'll need to waste both time and money by leveling up Tailoring, buying the recipes (one of them is in a house in the middle of nowhere in the Wetlands) and farm the resources to craft this gear. The rest comes from [x] blue BoE World drops, and either you'll need luck to get them or you're gonna end up wasting money by buying from the AH (thus wasting your time plus you'll have to travel to town, then back to your questing zone).
The other stats are just better to stack and much easier to get without having to go out of your way.
Spirit increases the mana you regenerate each tick, therefore you are gonna drink less, and spend less time drinking.
Intellect will give you a bigger mana pool and slightly increase your chances to land a Critical Strike.
Stamina will increase your HP, this isn't very useful against mobs as you don't get hit, and even if you do get hit you still shouldn't be taking enough damage to justify the HP increase (The reason you will facetank mobs is to trade HP for Mana by wanding a mob to death, which you should do to be efficient, which you can't do with SP gear because you'll end up killing mobs after using your last Frostbolt, which will allow you to regen one tick of mana after each fight at the most).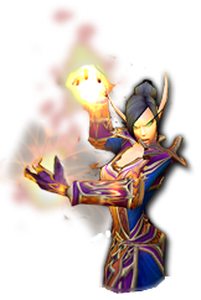 Stats priority:
Conclusion:
Of course, if you get gear with spell damage, do not hesitate. But do not sacrifice your spirit or intellect only for that.
A quick glance at stats for PVE HL :
Spell power: must have for mage in PVE raids and dungeons, but not really useful during the leveling session.
Spell Hit : Very good stat in PVE as well as for end game raiding.
Spell Crit : Same as Spell Hit, very good stat as well.