Warrior
A quick tour of the Warrior, a very important class in World of Warcraft. Because of the lack of Spirit on their equipment, their leveling is relatively slow, and they're likely to spend some time running back to their corpse. In dungeons, warriors are the best at tanking groups of mobs in WoW Classic.
You won't have any trouble finding partners up to level 60 if you are properly geared. Once level 60 is reached, you will be preferred to other classes for raids if you're using the Protection tree.
If you succeed in becoming your guild's main tank, you will be a cornerstone of your group.
Warrior isn't the best class for world pvp, especially if you're alone. You will have to be very attentive to your environment. On the other hand, with a healbot by your side, you will be able to shine and win multiple fights in a row!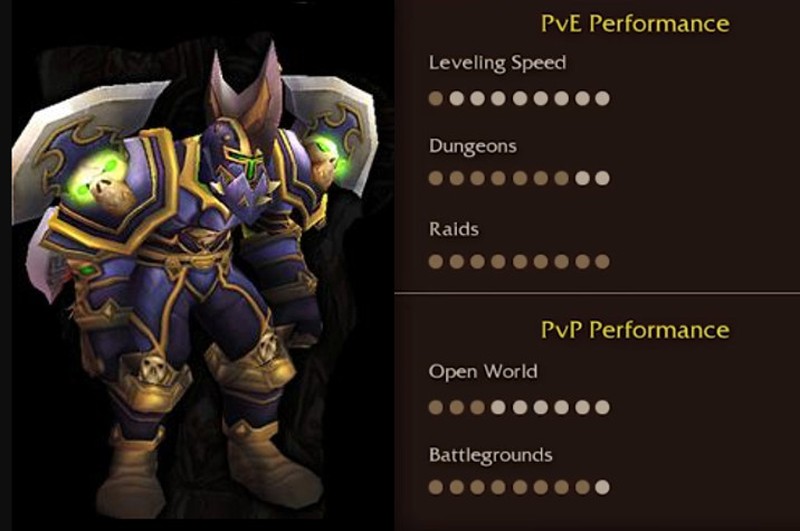 Warrior's strengths:
Best DPS class in vanilla (Fury for PvE and Arms for PvP)

Best tanking class

No mana, so you can kill mobs with no downtime with good gear

Very powerful in a group PVP setting with a pocket healer.

Easy to find dungeons as a tank

Can be rich if you are blacksmithing and find the Arcanite reaper recipe.

You can enjoy all the 3 specs as warrior

Good duo leveling class
Warrior's weaknesses
Very hard to level 1-60, one of the slowest classes but see our leveling warrior guide to be faster.
Most gear depends on your class in WoW.
Overpopulated class, so a lot of competition for gear and finding a good spot in a guild / dungeon.
Having to collect multiple sets (PvP gear, tank gear, PvE dps gear, resistance gear)
Repairing plate gear is also very expensive
Check out our guide for warrior leveling 1-60